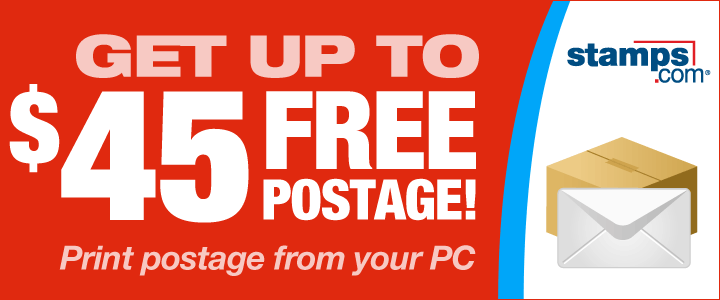 Looking to Buy Stamps Online?
Stamps are perfectly functional: slap one on a letter or postcard and it will get delivered to the location you specify. However, for all the practicality, these are still visually exciting pieces of mail currency, making them fun to collect. Recognizing this collectors market, the USPS releases a ton of new stamp designs each year, often in limited edition runs which disappear after they sell out. For collectors this means needing to quickly strike to find the new stamps they want.
Buying a new stamp design can be as easy as going to your local post office. In my experience, it can be a lot of fun to ask the postal worker at the post office what stamp designs they have and making a selection for a sheet of crisp, new stamps. If you go to a University, the U. store will likely carry stamps, too. However, if they don't have the designs you're looking for, you may need to turn to buying them online. The USPS has a website that you can purchase current stamps from; right now they have a wedding series and a muscle car series.
How do You Find Old Stamps Online?
Postage stamps go out of print fairly quickly, so if you're looking for a stamp which can no longer be purchased from the US post office, you'll have to check with other Internet sites.Your first decision will be whether you want the stamp new, or if a used stamp with the cancellation mark is good enough. If you're looking for a cheap way to collect stamps, going the route of a stamp with the cancellation mark over the art will be the way to go. Even if you would rather collect unused stamps, in an emergency you may need to purchase a used stamp to fill out your collection. The older the stamp, the less likely it will be to go about purchasing one that has been unused.
Successfully Order Stamps Online
If you are looking at an online auction-type of service, try to only deal with sellers who have good buyer feedback. You'll need to create an account with the site to buy or sell; you can sign up fairly easily if you don't already have one. As a buyer it is best to only purchase stamps which the seller lists accurate conditions and provides an actual photo of the stamp being sold, rather than a stock image of the stamp.
When you find a stamp for sale you want to buy, determine how much you're willing to spend on the stamp. Impulse buys can get you to bid higher than you'd normally pay, meaning you have less in your budget for other stamp purchases. Don't forget to balance in the cost of shipping; a cheap stamp can quickly cost more than its class is worth.
Alternatives to Buying Stamps Online
Since stamps used to mail letters, postcards, and packages, there are plenty of opportunities to acquire stamps for free. Simply checking your mailbox each day can yield some great finds. Sometimes in rare cases the post office will forget put the cancellation mark on the stamp. Many areas have clubs you can join for free (or a small fee) where stamp collectors get together for stamp swapping, buying, and selling. These clubs will often meet monthly, giving you plenty of opportunities to refresh your collection.
Extra Stamp Considerations
The US isn't the only country that uses postal stamps. Collecting international stamps can be full of benefits for the stamp collector, providing exotic designs. However, with all of the stamps that have been made and which are available, keeping track of them all can be a headache. The Scott Catalog is a reference tool which lists stamps and values, helping you to determine how collectible the stamp is. Of course, while a catalog can list suggested prices, custom values can be utilized, especially in online auctions and in-person swaps.
When you receive stamps, filing them in your collection is a renewing experience. Using your own stamp collection system is easy as a snap. Decide on the form you want your collection to take: ordering by year, stamp subject, or country of origin will let you file your stamps easily. You can constantly review your collection for new filing methods and the status of stamps you still need.
One interesting option for making your collection unique is getting a signature relating to the stamp. Having a celebrity signing a stamp with their picture on it is a cool way to personalize your collection. If you don't want them to sign the stamp itself, have them sign the area where you're displaying your stamp. You could create a card to mount the stamp, them have them sign the card. Make your own stamp mount by printing out cards with a card maker. I would recommend you state as much information on the card as possible, such as country of origin, how often the stamp was up for renewal, if it is a forever stamp, etc. Use your imagination!